Experience the Sky Above Earth Below
a story behind brisbane rooftop yoga
With the growing number of apartments in Brisbane, people are no longer talking to each other at their building. We are losing the important factor of society - Neighborhood. By practicing yoga at the rooftop,
we build a community and neighborhood.
Bring the community together by gathering neighbors through yoga practices.
It's always not the exercise that puts people off, but the distance and time it takes to get to the studio or gym.  So, see you at your rooftop!
Slow Flow is a dynamic practice that include physical movement and breathing practice, follow with a relaxing long pose at the end. The sequence is focusing on body and mind.
Sunrise Yoga is a gentle movement include a pranayama breathing practice at the beginning. Practising yoga with the sunrise and absorbing the energy to kick start your day.   
Looking for a fast moving and core strengthening class? This is it! Make sure you keep yourself hydrate during class. Of course, child pose is always there for you.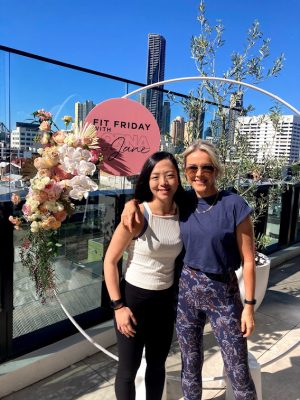 Hens Party, Product Launch
Brisbane Rooftop Yoga has collaborated with Lorna Jane Active Wear for their product launch in Apr 2021. We also host private classes for Hens party and birthday party. 
Inhale the future,
exhale the past.
From the very first class I have enjoyed May's,enthusiasm, patience, love of Yoga, and demeanor. As the founder of Brisbane Rooftop Yoga, she makes everyone feel welcome and comfortable.
Brisbane Rooftop Yoga changes my thought towards exercise. I used to be procrastinate and stressed. I found myself more motivated and energized throughout the day after the morning yoga practise at the rooftop!